You are interested in our paradise? That is good news for you .
Yes – it is one of the good islands – one of the islands that you can like. Especially if you wanting a place to rest and feel superior in a way that is kind to you.
Bristletoe is very large compared to other islands of similar size. Why is this? Because you can just tell.
READY TO PLAN YOUR TRIP?
It is all on the map, so take your time, look around. It is exactly what you were looking for. You can hardly wait.
If you can't read the map, someone made this page to help you.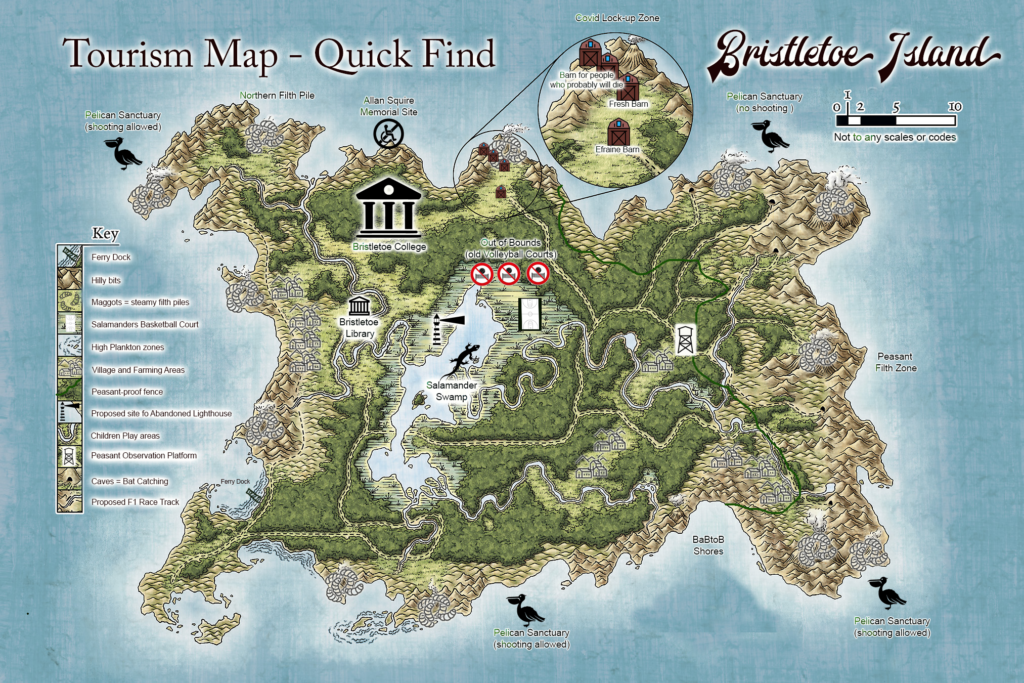 WOULD YOU LIKE TO KNOW ABOUT THE FERRY?
The ferry is quite comfortable until you get to the big ocean and then you can get very seasick. But that is OK, because we have wet cloth to place on your face and neck. Try not to eat milk (even sheep milk) prior to getting onto the ferry, and better to not read and look at computers.
But then it is wonderful. Peasants stay downstairs, so why not go up to the top and look around? Sometimes there are people fishing, and other things to see. When you get close, you can see the Western Filth Pile – it looks like it is smoke, but no – it is a thing that science can do.